i2i are continually researching new ideas and challenging existing practices across a number of different industries. The company has a dedicated R&D team working from a new 2500 sq/ft facility on the Manchester Science Park looking at ways to integrate sensor & IoE technologies for the increased efficiency and predictive maintenance of Energy & Transport infrastructure.
Smart Pigs for Pig Valve launch.
Developing smart pig technology that can be launched and recovered in a pig valve is a big R&D driver for i2i in 2017. Tests have already been carried out with the help of Argus Machine Co in Canada.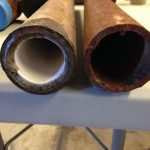 Small Bore
i2i are developing a small bore inspection pig for 2″ and 2″ cement lined gathering lines. Field trials will take place Q1 2017.
Profiling the location, extent & composition of pipeline deposits.
i2i is carrying out a major study, in conjunction with a leading international pipeline cleaning company, to be able to profile and map the extent and type of pipeline wax, scale and other deposits within a pipeline.
More details to come
Detecting & Removing Hydrates
Hydrates are a recurring and serious flow assurance issue for the oil & gas pipeline industry. Hydrates are ice-like solids that form under the high pressure and low temperature conditions of deepwater offshore pipelines, leading to both plugging and corrosion phenomena. Hydrate plugs can form quickly and completely block a pipeline presenting a major challenge for flow assurance and the safety of a pipe system. Locating and removing the hydrate blockage can be extremely difficult and costly.
i2i is working with a leading UK University on the ability to detect the Hydrate phase boundary within a pipeline using Discovery pigs and then deploy chemical inhibitors to that specific location of the pipeline to prevent formation.
Subsea processing
Processing of production fluids on the seabed near the wellhead has a number of advantages in deepwater applications. As new reservoir discoveries push into ever deeper waters it becomes difficult to keep the production fluid at a temperate that prevents hydrate formation. By processing the production fluid near the wellhead and removing water from the multi-phase flow significantly reduces the risk of hydrate formation and potential pipeline blockages.
i2i is currently researching a novel way to separate & remove water from the production fluid as it travels down the pipeline to reduce the risk of hydrate formation.
Rail track inspection
The most common reason for train derailment apart from human error comes from broken or damaged rail track. The consequences of train derailment are normally catastrophic and have a high risk of fatality. A number of NDT techniques are currently used to inspect rail track.
i2i is looking into transferring the knowledge, technology and strategies it is currently employing on Energy sector infrastructure to the Rail Transport networks. Advanced sensors combined with the new wave of digital IoE technology could potentially increase efficiency, safety and lower maintenance costs.
i2i have a number of patent applications with the UK patent office to support our operational tools and secure our intellectual property.