"Any product that needs a manual to work is broken"
We really like this quote by Elon Musk and its the foundation of our design philosophy at i2i. Simple product design requires hard work and advanced thinking but can deliver real value to customers. Pioneer tools are designed to be mobilised un - accompanied by specialist technicians and deployed by onsite personnel. Remote access to the unit will allow i2i engineers to trouble shoot and assist in data recovery from remote workstations.
i2i's SmartFoam pigs offer full internal inspection capability with all the operational benefits of a foam pig.
SmartFoam™
i2i's  SmartFoam Pig is a low risk, low cost tool for the in-line inspection of Oil and Gas pipelines. These innovative new tools combine the benefits of advanced electromagnetic sensors with simple and easy to deploy foam pigs. The result is a highly capable and deformable in-line inspection tool that is able to negotiate complex geometry pipelines whilst inspecting for internal corrosion and cracking as well as accurately profile pressure, temperature and velocity along the length of the pipeline.
The advanced eddy current technology will measure the location and thickness of any scale, wax or water drop-out in the pipeline as well as inspecting for corrosion underneath these deposits. There is no requirement to clean the pipeline before using these inspection tools and they have little or no impact on production operations. The SmartFoam Pigs are designed for high frequency use so data trending and anomaly monitoring can be achieved over the lifetime of the pipeline. The electronics housing can be changed between sensor heads, so an Operator can inspect a range of pipe sizes with one system leading to significant cost savings over existing ILI methods.
"The foam pigs are a hybrid design with a PU cup moulded into the front of the foam pig during manufacture. The pressure vessel is secured to this PU cup and a second centralising disk is bolted onto the pressure vessel at the back of the foam pig".
Advantages
Internal corrosion and fatigue cracking can be detected
Internal inspection can be part of routine maintenance & cleaning operations
They have little or no impact on production
They can negotiate complex geometry, reduced pipe bore and multi-diameter pipeline
Operating Parameters
Pipe sizes:  6 – 48 inch
Min Bend radius:  1.5D
Max bore reduction:  20%
Max Speed:  8 m/s
Advantages
The can be launched & received in conventional facilities – all tools are < 1.3m in length
No prior cleaning is required before inspection
They can inspect in multi-phase or dry gas environment
Longitudinal as well as circumferential cracks can be detected
Operating Environment
Gas:  Yes
Multiphase:  Yes
Pipeline temp:   0°C to 85°C
Max Pressure:  250 Bar
Advantages
Production profiles of P V T are captured every 12m
Innovative pipeline mapping technology replaces conventional odometer
Location and thickness of wax or scale build up can be measured
Location and extent of water drop out in gas lines can be detected
Inspection Data
Corrosion:  Yes – internal corrosion
Cracking: Yes – longitudinal circumferential
Scale / Wax:  Yes – location, depth & extent
Pressure:  Yes – recorded at each feature
Temperature:  Yes – recorded at each feature
Velocity:  Yes – recorded at each feature
Theft from pipelines is a growing problem in the Energy industry with an estimated $37B in revenue lost globally each year. As well as the significant loss in revenues due to syphoning from pipelines, illegal taps are responsible for causing massive environmental damage and numerous deaths in local communities.
The Patrol™
Due to the increasing activity in illegal pipeline taps i2i have developed the Patrol™, an easy to deploy Smart Pig to be used with high frequency and specifically designed to locate and report on the locations of illegal tapping & theft. The Patrol pig uses electromagnetic sensors to provide a direct assessment method for locating the illegal tap and the automated and rapid analysis of data allows maintenance teams to be onsite within hours of tool recovery. The Patrol pig also identifies localised pressure drops within the pipeline as well as any change in composition of the product i.e. if water or other fluids have been added to replace the product stolen.
"Oil theft is second only to the narcotics trade in the generation of illegal revenue and the scale of the problem is increasing year on year."
Strategy for Patrol pigs
Simple design allows the client technicians to deploy the tool on a regular basis.
Data is analysed automatically with proprietary software and edge computing.
Can be deployed every day, week or month if necessary to ensure illegal tap operations are identified and removed quickly and syphoning is kept to a minimum.
Cloud based reporting and client interaction.
Advantages of Patrol pigs
No specialist equipment needed to launch & receive the tools.
All tools are under 1m in length and easily mobilised.
Minimum or no maintenance – damaged sensor cups are easily replaced.
Internal battery packs are recharged overnight.
No requirement to clean the pipeline or disrupt normal production operations.
The pipeline is cleaned and inspected in one run.
For longer sections of pipeline where there is no risk of blockages or change in pipeline diameter there is the Pioneer Smart Pig. It looks and deploys like a conventional mandrel pig, easy to mobilise, easy to launch and greatly reduces the operational risk encountered with conventional in-line inspection tools.
Pioneer™
i2i Pipeline's mandrel style utility pigs combine the ease of deployment of a mandrel pig with the inspection capability of a conventional inspection pig. The Pioneer pigs have advanced electromagnetic sensors embedded in the PU drive cups and have the same inspection capability as the SmartFoam™ pigs. The novel array of electromagnetic sensors detect shallow internal corrosion and fatigue cracking (SICC) in dry gas or multiphase pipelines. All the Pioneer pigs are less than 1.3m in length, which enables them to be launched and recovered from standard pigging facilities.
The PU drive disks that hold the sensors are designed to be disposable items and are easily replaced if damaged. The electronics are housed inside the body of the pig which acts as a rated pressure vessel. As with all Pioneer pigs they record P V T profiles along the length of the pipeline as well as detecting water drop out and debris.
"Pioneer pigs do not need an odometer to size or position defects within the pipeline. The proprietary signal recognition software coupled with the onboard IMU allows all features to be accurately positioned within the pipeline. This is especially useful in dirty pipelines that might normally cause slippage with the conventional odometers."
No odometer required
i2i's Pioneer pigs do not need the use of odometers to determine the size or locations of defects or features within the pipeline. Pioneer tools synchronise data from IMU and the onboard feature recognition software to pinpoint the exact location of recorded signals from anomalies or pipeline features. This has considerable advantage over existing technology in that there is no risk slippage of the odometer wheels in pipelines that may have deposited or debris and greatly increases the location accuracy of data.
Water drop out
A key capability of the Pioneer pigs is their ability to collect data on the production environment and product composition within a pipeline, in addition to inspecting the pipe wall for defects. In particular the ability to identify the location and extent of water drop out in a gas pipeline. As stagnant water, sitting in a low point of a pipeline, can become a real integrity concern for a pipeline operator, having the ability to quickly and easily check for the presence of water can bring significant value to the industry.
This capability is particularly useful after a hydrostatic or commissioning test to ensure all water has been removed from the pipeline.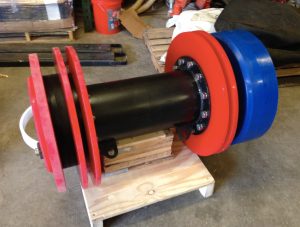 Mobilisation
i2i tools are very easy to mobilise and deploy within a pipeline. All tools are under 1.1m in length and can be launched and recovered from conventional pigging facilities. This has significant advantages when carrying out pigging operations from an offshore facility where space from additional or extended equipment may be limited.
Pioneer tools are designed to be operated without dedicated 3rd party support on site. A key criteria of the Pioneer Smart Pigs is their simplicity of design and ease of use.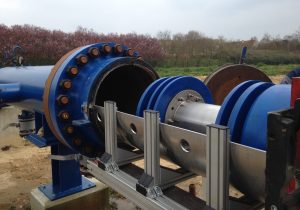 A machine learning signal recognition software that organises, analyses and reports on pipeline data, helping operators to make informed decisions, improve efficiency and implement predictive maintenance where it is needed the most.
"Pipeception is a machine learning signal recognition software that highlights anomalous signals from the pipeline for further engineering analysis. Rapid data screening and analytics allows engineers to trend data and make informed decisions on predictive maintenance strategies ".
Pipeception®
Pipeception is i2i's proprietary machine learning signal recognition software. A cloud based signal recognition software that organises, analyses and reports on sensor data from pipelines. Pipeception is unique in that the signal recognition software can analyse sensor data from the Pioneer smart pigs within hours of data upload and post a risk based report to engineers that can carry out detailed analysis of anomalous signals. The big data analytics and visualisation provided by Pipeception will help operators make informed decisions, improve efficiency and implement predictive maintenance where it is needed the most. The result is better safety and integrity management across a pipeline network with improved efficiencies and cost savings.
The data base is accessed via www.pipeception.com and allows users of Pipeception technology to access the site from any geographical location and manage the integrity of their pipelines.
Signal recognition
Pipeception uses an advanced signal recognition software that allows large quantities of pipeline data to be analysed in a short period of time. The software then reports on anomalous signals within the data set. The software can calculate distance to defects within the pipeline very quickly and accurately.
Monitoring
Pipeception as the capability to compare data between inspection runs and quickly identify any changes in either signal generation, shape or amplitude. This function allows pipeline operators the chance to monitor defects on a regular basis to see if there is any change to recorded fingerprint of the defect.
Data visualisation
Pipeception collects, organises and displays large quantities of data in an easy to view and understand format that allows asset engineers to extract the information they need very quickly as easily. Pipeception displays data on internal anomalies, PVT profiles and geometry mapping and can be viewed as individual data streams or combined to see a bigger picture on operating conditions.